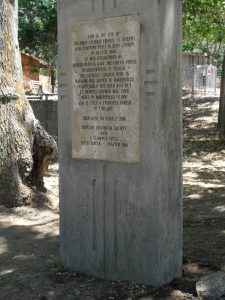 The very first Catholic Church in Kern County is long gone, but the plaque reads:
THIS IS THE SITE OF THE FIRST CATHOLIC CHURCH, ST. JOSEPH'S, AND CEMETERY BUILT IN KERN COUNTY IN AUGUST 1866. IT WAS ESTABLISHED BY FATHER FRANCIS DADE, THE CIRCUIT PRIEST HEADQUARTERED IN VISALIA. THE CATHOLIC CHURCH HERE IN HAVILAH WAS MOVED TO BAKERSFIELD IN 1873 WHEN THE GOLD RAN OUT. ST FRANCIS CHURCH WAS THEN BUILT IN BAKERSFIELD IN 1881 AND IS STILL A PRINCIPLE PARISH TO THIS DAY.
DEDICATED ON JUNE 7, 2014
HAVILAH HISTORICAL SOCIETY AND
E CLAMPUS VITUS
PETER LEBECK – CHAPTER 1866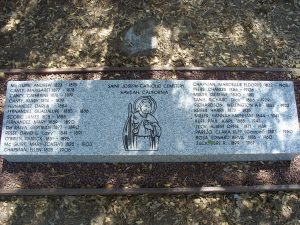 For years it has been called the "Old Havilah Cemetery", but due to research by the Cemetery Interest Group from Tehachapi, CA, and their contacting the Catholic Church Diocese in Fresno, CA, the church found that they still own this little cemetery. During "Havilah Days" in June 2014, Bishop Ochoa came down and performed a re-dedication of the "St. Joseph Catholic Cemetery" in Havilah. The church also presented this common headstone listing all the names of those who are buried here. Point of interest: There is another grave marker just outside of the cemetery fence which simply states "GREIL1". When the Diocese Cemetery Supervisor, Carlos Rascon was asked about this one, he replied, the church has no record of this burial. It could be someone who died, but could not be buried in consecrated ground; a suicide, a "woman of ill repute", etc. We may never know (OK, STOP THAT — be nice!)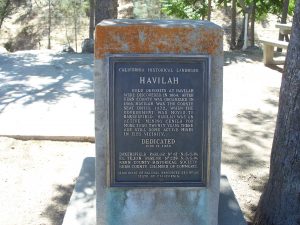 The plaque reads:
CALIFORNIA HISTORICAL LANDMARK
HAVILAH
GOLD DEPOSITS AT HAVILAH WERE DISCOVERED IN 1864. AFTER KERN COUNTY WAS ORGANIZED IN 1866, HAVILAH WAS THE COUNTY SEAT UNTIL 1872, WHEN THE GOVERNMENT WAS MOVED TO BAKERSFIELD. HAVILAH WAS AN ACTIVE MINING CENTER FOR MORE THAN TWENTY YEARS. THERE ARE STILL SOME ACTIVE MINES IN THIS VICINITY.
DEDICATED
June 12, 1938
BAKERSFIELD PARLOR No. 42 N.S.G.W.
EL TEJON PARLOR No 239 N.D.G.W.
KERN COUNTY HISTORICAL SOCIETY
KERN COUNTY CHAMBER OF COMMERCE
DEPARTMENT OF NATURAL RESOURCES REG No 100
STATE OF CALIFORNIA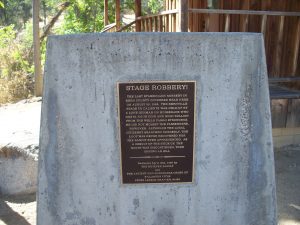 The plaque reads: STAGE ROBBERY !
THE LAST STAGECOACH ROBBERY IN KERN COUNTY OCCURRED NEAR HERE ON AUGUST 28, 1896. THE KERNVILLE STAGE TO CALIENTE WAS HELD UP BY A LONE GUNMAN ON HORSEBACK WHO GOT $1,700 IN COIN AND GOLD BULLION FROM THE WELLS-FARGO STRONGBOX. HE DID NOT MOLEST THE PASSENGERS, HOWEVER, ALTHOUGH THE LOCAL CITIZENRY SEARCHED DOGGEDLY, THE LOOT WAS NEVER RECOVERED NOR THE BANDIT EVER APPREHENDED. AS A RESULT OF THE STICK-UP, THE ROUTE WAS DISCONTINUED. THUS ENDING AN ERA.
Dedicated April 18th, 1999 by
THE KUTZNER FAMILY
And
THE ANCIENT AND HONORABLE ORDER OF
E CLAMPUS VITUS
PETER LEBECK CHAPTER 1866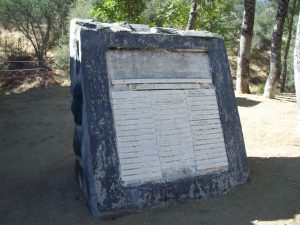 (This is the old one [1966], see the replacement plaque [2017] below) In 1966 a monument was erected to mark the 100th Anniversary of the founding of Kern County, also to recognize Cleone and Frank Shaw for donating the land to the Havilah Centennial Group to erect a replica 1866 Court House/Museum, and a replica 1867 School House/Museum — and all those involved in the construction / re-construction or donating to the construction. In commemoration of the 150th Anniversary, the Kern County Board of Supervisors held a regular Board meeting in a large tent behind the School House on April 19, 2016. As a result of that meeting, Supervisor Mick Gleason offered for the Board to pay for refurbishing or replacing this sadly deteriorated memorial. THANK YOU MICK GLEASON AND CURRENT SUPERVISORS ON THE Kern County Board of Supervisors! It would have cost almost 3 times what a new plaque would cost, so the Supervisors paid to have a new one made.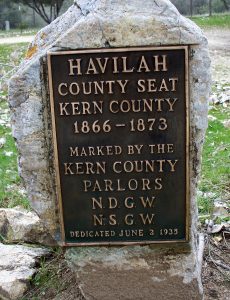 What do you do on a warm Sunday morning (warm? In February?), go to church probably, well, my wife Jayne and I went down to the Old Havilah Cemetery (St. Joseph's Catholic Church Cemetery) to work on cleaning up this brass marker from 1935 so you can read it. It was so dirty (How dirty was it Al you ask?) Well, it was so dirty that I drove right by it for several years before I even knew it was there, and it is only 10 feet off the road, but thanks to a good friend of ours, Mr. Charles Topping, MFA (that's "Master of Fine Arts") we were taught recently how to refurbish these plaques without doing a whole lot of damage. THANKS CHARLES! (I'd call him Chucky, but he wouldn't like that — unless of course I was bowing at the time!)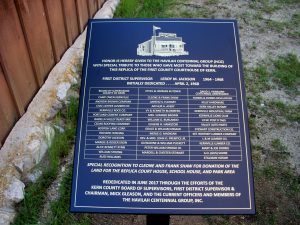 This is the new plaque that replaces the old 1966 Plaster of Paris monument that was placed just outside of the 1866 Court House Bldg in commemoration of the 100th Anniversary of the founding of Kern County in 1966. The new one was re-dedicated Monday June 5, 2017.
THANK YOU AGAIN, TO THE CURRENT KERN COUNTY BOARD OF SUPERVISORS, AND ESPECIALLY TO SUPERVISOR MICK GLEASON! The Supervisors came up to Havilah on April 19, 2016 to celebrate the 150th Anniversary of the founding of Kern County, and Supervisor Gleason suggested we either repair or replace the old one. We replaced it, and the Supervisors supplied the funding!
Here is the newest plaque we just installed at the front of the Court House on April 17, 2018 using the old 1966 monument base. Quite an eye-catcher as you drive by, and hopefully it will cause more visitors to stop and enjoy our history!