The Havilah Herald
Official Publication of the Havilah Centennial Group, Inc.
aka The Havilah Historical Society and Museum
Havilah California – February 2019
A recognized 501 C 3 non-profit Historical Organization (all donations are tax-deductible)
Dedicated to the preservation of the history of Havilah,
The first County Seat of Kern County, CA
Our Purpose:
The purpose of this corporation is EDUCATIONAL. The organization has been formed and is maintained to research, document, preserve, and share the historic legacy of the town of Havilah, California, and of Kern County, California. Included in this purpose is the objective to provide for the advancement of education about the history of Havilah and early Kern County to the local community at large and to any and all visitors to the community.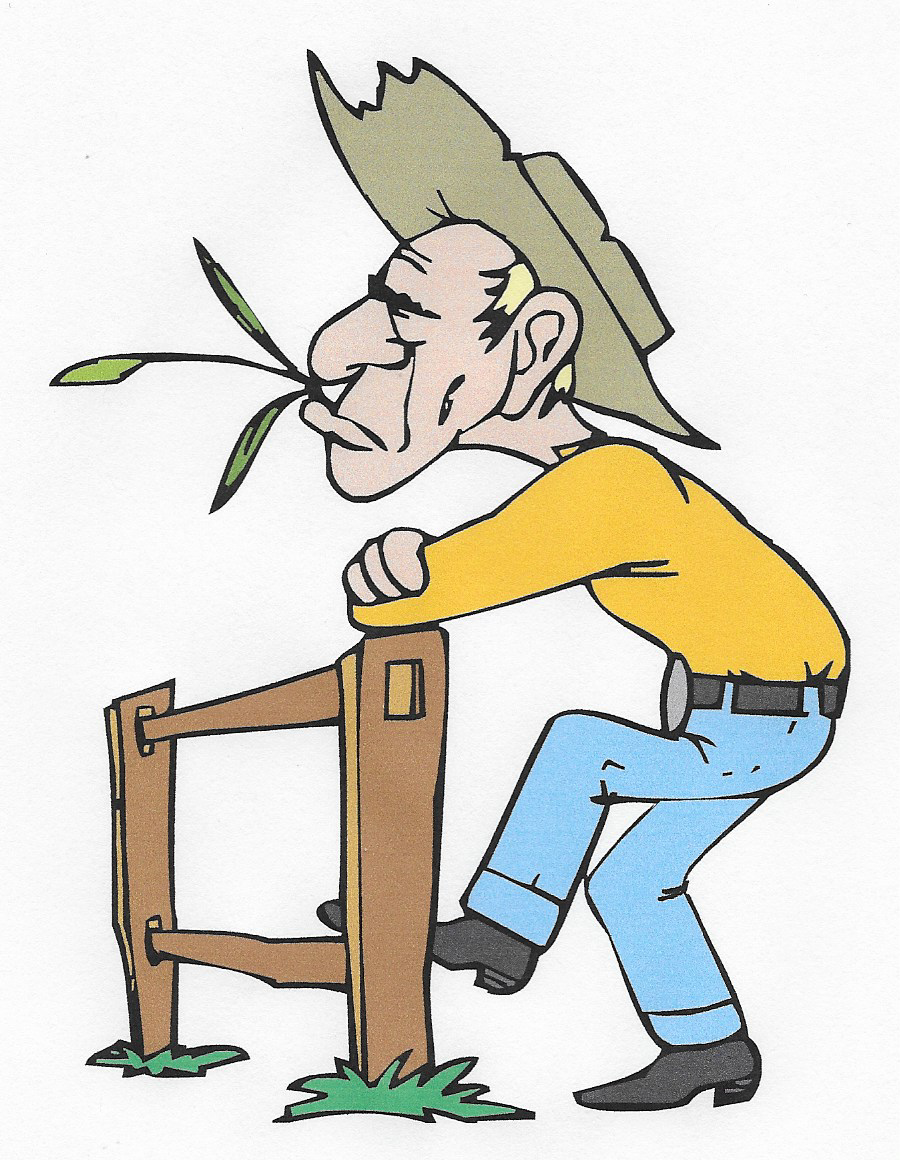 The Prez Sez for February 2019
                                  GONE FISHIN'   ——    I'LL CATCH-UP NEXT MONTH !  —- Al
______________________________________________________________________
The next General Meeting will be Saturday, February 9 at 3 pm at the Havilah Schoolhouse.  We welcome all members, visitors, too.  Your input is needed to help keep our organization continuously running smoothly.  We will carry on with plans for our upcoming History Day in Havilah this October.  It's not too early to be planning on how YOU can make this important event a huge success!
A reminder:  the 2019 annual dues are now payable.  If you haven't already paid you'll find a dues remittal form at the back of this newsletter.  Your generous contribution of only $25 will help support our little old-west community!  Thank you in advance.
A SHORT HISTORY OF BARBED WIRE Copyright 1985 by John Mantz
The beginning for the need of barbed wire was seen in the year 1867, and a few men applied for patents pertaining to restraining wire that would hold and turn livestock.
The names of the men who applied for patents that year were Alphonso Dabb, Lucien B. Smith, and William D. Hunt.  In 1868 Michael Kelly, a New York blacksmith, patented his "thorny" fence.  The next few years found Lyman P. Judson, Jacob Haish, the Merrill brothers, I. L. Ellwood and Henry Rose also patenting wires.  These men could see the vast need for an easily constructed fence, economical to build, that would hold livestock in a vicinity where neither poles nor rocks were available; a fence that would last for a period of years and require little maintenance.
The millions of acres of the Plains states where fences would be needed was uppermost in these men's minds, and they set about to get their share of the business.
The first wire produced by these pioneers was made on coffee grinders, grind stones, or in the case of Kelly, a backyard blacksmith shop.
Some of the early wires used wooden blocks and signal plates so the livestock could see the wire.  The reason for this of course being that cattle raised on the open range and held in pole corrals had a tendency to run through the strands of wire as though it didn't exist.  The need for these easy-to-see wires passed as succeeding generations of cattle were born and raised behind wire and quickly grew accustomed to it.
In the barbed wire collecting business we see other periods in which various ideas, some valid and some not, influenced inventors to produce a myriad of wire variations.  At one point, it was all the rage that the idea to be successful a wire had to be really vicious, capable of producing great pain from cuts and infections, and ruining hides for leather.
This period passed rather quickly and hundreds of inventors went on to create the 898 wires that today's collectors avidly pursue.  A number of wires today command prices of $400-$500 per each 18-inch piece and many more sell in the $200-$300 price range.  Museums across the country now feature exhibits of antique barbed wire, giving it the belated recognition that it deserves.
As in any endeavor, there were some men, who by dint of superior know-how, business acumen and better advertising, rapidly collared the bulk of the wire business.  Foremost among these was Joseph Glidden.  With the purchase of others patent rights, franchises and dealerships, Glidden became the "Baron of Barbed Wire."  At his insistence and because of his considerable financial clout, Glidden managed to persuade Congress to name him the "Official Inventor of Barbed Wire!"  This for his "Glidden Winner," a wire he patented in 1873, a full five years after Kelly introduced his "thorny" fence, and well after men like Ellwood, Haish and others had retired from the business.  Then, as now, money talked.
A lax U.S. Patent Office permitted many wires to be issued patents which were flagrant violations of patent infringement.  Notable among these was the case of Ellwood vs. Decker.  Each wire produced by Ellwood was promptly pirated by Decker as is evidenced by their "two-line spreads" and their parallel wires.  It comes as no surprise then that in many cases the lawyers made more money than the inventors!
The earliest wire patent on record in the U.S. is by Meriwether of New Braunfels, TX, in 1853.  The wire is not a barbed wire however, but a smooth, wavy wire of considerable weight.  Today's price is only $3.00, so it is not a rarity.
Much has been written about the troubles caused by the advent of barbed wire in the Old West, and unfortunately most of it is true.  The users of the open range viewed the homesteader as a severe threat to their livelihood, and well they might – for the "sod-buster" as the small farmer was known, usually fenced in creeks and springs in order to save the water for his crops and livestock.  Many a man died over the stringing of a thin strand of wire and many others narrowly averted death by judiciously moving on after a coffin was delivered to his front porch by the cattleman's riders.
A combination of factors caused barbed wire to finally gain universal acceptance:  the coming of the Hereford, an animal that ranged less than the Longhorn (and which incidentally, produced more meat), the simple marking of property lines, and easier handling.  It is much less difficult to round up cattle fenced in a 1000 acre pasture than when running free on open range.  When the huge X.I.T. Ranch in Texas fenced in its holdings, some three MILLION acres, barbed wire was in.
Another important aspect of fencing was the radical change it brought to a heretofore unplotted West.  Now for the first time in history property lines were firmly established according to legal surveys.  Townships were laid out and public roads came into being.  In some cases where owners couldn't agree on surveys each would drop back a number of feet and erect their own fence, thus causing the creation of "devil's lanes" as they became known.  In time many of these lanes developed into roads between ranches used by the public.
Those of us that collect barbed wire today appreciate what it symbolizes and recognize its importance – for it was truly the wire that tamed the West.  *  *  *  *  *
_______________________________________________________________________
Following is another article from the Old Timer's Column published in the Wofford Heights Kern River Valley Review by The Ghost Writer (Edith Long, whose parents were Jim and Pearl Bechtel) on February 5, 1970:
Recently a lion caught a little dog and mauled it quite badly.  This reminded me of the days when the late Mr. Howe and his numerous and assorted hound dogs were the official lion catchers for this part of the country.
He was paid by both the State and the Cattlemen's Association for this service.  Mr. Howe spent most of his time in the high mountains and meadows where the South Fork Ranchers grazed their cattle in the summer.  Even just one lion hunting in cattle grazing country would cause great losses.
As soon as a wrangler found signs of a lion near the cattle he would immediately contact Mr. Howe.  He and his dogs would "stay on the hunt" until the lion was either killed or had left that part of the country.  These hunts often lasted for days, and sometimes resulted in a cornered lion badly injuring the dogs.
Down through the years, Mr. Howe and his dogs became so skilled at keeping the country free of lions that calls for his services became fewer.  By keeping the lions out of the high country the deer population expanded, allowing more hunting.
When Mr. Howe wasn't out on a "hunt," he lived in an old shack at the south end of Old Kernville.  His property adjoined the north part of the pasture that contained the favorite catfish pond of the fishermen.  His shack was located on the east side of the road that came up from Old Isabella near town.  His assorted hounds were tied to trees in his backyard.  Among the various breeds of hounds he owned were three bloodhounds which the "natives" would gladly have turned loose in the hope that the dogs would get lost while on the track of some wild animal, never to find their way home again.  This was because in the dead of night their sleep often was shattered by the hound's deep-base barking or baying.  There was always a big sigh of relief by the town's inhabitants when Mr. Howe was spotted loading supplies and dogs into his old open car, in preparation of another hunt. They were all looking forward to a good night's uninterrupted sleep once again!
*  *  *  *  *
Some Cowboy Jokes
Two cowboys came upon an Indian lying on his stomach with his ear to the ground.  One of the cowboys stops and says to the other, 'you see that Indian?'  'Yeah,' says the other cowboy.  'Look,' says the first one, 'he's listening to the ground.  He can hear things for miles in any direction,'
Just then the Indian looks up.  'Covered wagon,' he says, 'about two miles away.  Have two horses, one brown, one white.  Man, woman, child, household effects in wagon.'  'Incredible!' says the cowboy to his friend.  'This Indian knows how far away they are, how many horses, what color they are, who is in the wagon, and what is in the wagon.  Amazing!'  The Indian looks up and says, 'Ran over me about a half hour ago.'
*  *  *  *
An old blind cowboy wanders into an all-girl biker bar by mistake.  He finds his way to a bar stool and orders a shot of Jack Daniels.  After sitting there for a while, he yells to the bartender, 'Hey, you wanna hear a blond joke?'  The bar immediately falls absolutely silent.  In a very deep, husky voice;, the woman next to him says, 'Before you tell that joke, Cowboy, I think it is only fair, given that you are blind, that you should know five things:  The bartender is a blond girl with a baseball bat,.  The bouncer is a blond girl with a 'Billy-Club.'  I'm a 6-foot tall, 175-pound blond woman with a black belt in karate.  The woman sitting next to me is blond and a professional weight lifter.  The lady to your right is blond and a professional wrestler.  Now, think about it seriously, Cowboy…Do you still wanna tell that blond joke?'  The blind cowboy thinks for a second, shakes his head and mutters, 'No…not if I'm gonna have to explain it five times.'
*  *  *  *
Question:   What sickness do cowboys get from riding wild horses?
Answer:  Bronchitis.
************************************************************************
And Lastly:
A cat dies and goes to Heaven.  God meets him at the gate and says, 'you have been a good cat all of these years.  Anything you desire is yours; all you have to do is ask.'  The cat says, 'Well, I lived all my life with a poor family on a farm and had to sleep on hardwood floors.'   God says, 'Say no more.'  And instantly, a fluffy pillow appears.
A few days later six mice are killed in a tragic accident and they go to Heaven.  God meets them at the gate with the same offer that He made the cat.  The mice said, 'All our lives we've had to run.  Cats, dogs and even women with brooms have chased us.  If we could only have a pair of roller skates, we wouldn't have to run anymore.'  God says, 'Say no more.'  And instantly, each mouse is fitted with a beautiful pair of tiny roller skates.
About a week later God decides to check and see how the cat is doing.  The cat is sound asleep on his new pillow.  God gently wakes him and asks, 'How are you doing?  Are you happy here?'  The cat yawns and stretches and says, 'Oh, I've never been happier in my life. And those Meals on Wheels you've been sending over are the best!'
*  *  *  *  *
~~~~~~~~~~~~~~~~~~~~~~~~~~~~~~~~~~~~~~~~~~~~~~~~~~~~~~~~~~~~~~~~~~~
Membership Application
Havilah Centennial Group, Inc.
Havilah Historical Society & Museum
6789 Caliente-Bodfish Road, Havilah, CA 93518
www.havilahmujseum.org
Fiscal Year from Jan. 1 to Dec. 31
$25 Annual Dues for an Individual or a Family Membership (a family is 2 adults for voting purposes), will entitle members to receive notices via monthly newsletter, The Havilah Herald, of meetings, functions, and events.
Name___________________________________________________________________
Mailing Address_______________________________________________________________
Phone________________________________email_______________________________
Deliver newsletter (check one) by email______ or by snail-mail______
Date Application Submitted___________________________________
*                           *                           *                           *                       *                    *
THE CURRENT HAVILAH HISTORICAL SOCIETY OFFICERS AND DIRECTORS:
President:         Al Price                          661/867-2414         email   havilahmuseum.org
Vice President  Larry Grafius                 661/867-2579
Secretary          Roy Fluhart                    928/308- 1863        email   rflu408@gmail.com
Treasurer          Jayne Hotchkiss-Price    661/867-2414         email   havilahmuseum.org
Directors (2)         Lana Grafius               661/867-2579
                             Wes Kutzner              760/379-2636       email   kutznerwes@gmail.com
Past President &/Editor    Janet Kutzner   760/379-2636    email   kutznerwes@gmail.com
Annual membership is $25.00 per individual or family.  Membership year is from January 1 to December 31.
The Courthouse Museum and Schoolhouse are open from April 1 through Sep. 30 on weekends from 11 am until 3 pm, and by appointment.  They are located at 6789 Caliente-Bodfish Road, Havilah, CA 93518.
Admission to the museum is FREE, but donations are cheerfully accepted, (and 100% tax-deductible!).
The monthly general meeting is at 3 pm the second Saturday of each month at the Havilah Schoolhouse.
HAVILAH HISTORICAL SOCIETY & MUSEUM
6789 Caliente-Bodfish Road
Havilah, CA 93518