The Havilah Herald
Official Publication of the Havilah Centennial Group, Inc.
aka The Havilah Historical Society and Museum
 March 2023
A recognized 501 C 3 non-profit Historical Organization (all donations are tax-deductible)
Dedicated to the preservation of the history of Havilah,
The first County Seat of Kern County, CA
 California Historical Marker # 100
Our Purpose:
The purpose of this corporation is EDUCATIONAL. The organization has been formed and is maintained to research, document, preserve, and share the historic legacy of the town of Havilah, California, and of Kern County, California. Included in this purpose is the objective to provide for the advancement of education about the history of Havilah and early Kern County to the local community at large and to any and all visitors to the community.
 *                          *                         *                               *                         *  
for May, 2023
By all accounts our first Annual Mining Expo was a great success.  I'm still amazed at how many people showed up.   We filled up 6 pages of sign-in sheets in the courthouse, which adds up to 96 entries (not counting families), and there were no doubt a lot who didn't sign-up.  My final estimate is 150-200 people total.
All of this didn't happen without a lot of work by our members.  Many thanks goes to everybody involved, but special credit to Jayne Hotchkiss-Price for developing the Mining Expo idea to begin with and putting in tons of work to get it all organized.  Before we even started on Saturday morning, Bob and Vicky Porter and Raul Estrada really spiffed up the building interiors and the grounds and they spent the day interacting with a lot of visitors.  Al Price spent all day in the schoolhouse operating the projector and Power Point program.  He didn't even get out for recess!!  Thanks Al.  The courthouse was very busy with Janet and Wes Kutzner, Larry and Lana Grafius and Shirley Real being good docents and signing up five new members.
The programs in the schoolhouse were videotaped by Gene Verbeet and he'll provide us with a copy – Thanks, a lot, Gene!
Roy Fluhart, President
First Mining Expo at Havilah-April 29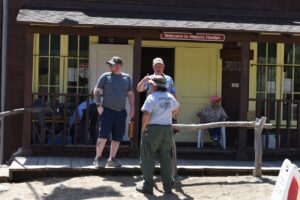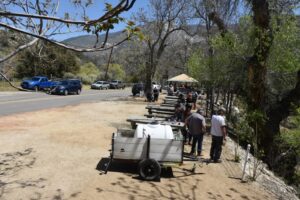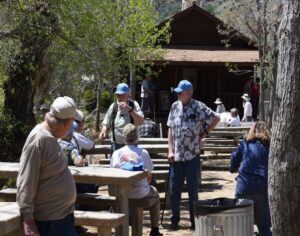 A hearty welcome to our newest members:  Scott Powers, John and Sue Clark, Darrell Willhite, Sonny Niduvitch, Terri and Gene Verbeet, Tim Malouf, and Charlie Gregory!  We meet every second Saturday for our general meeting at the Havilah Schoolhouse at 3 pm – hope to see you there!    Editor's note:  The Havilah Historical Society now has 51 members.  Yea!  At the next meeting an updated membership roster will be available.  *  *  *  *  *
The following newspaper article is from The Morning Echo, Bakersfield, and dated 9-27-1911.  It features Mr. Neils P. Petersen who was the Great-great-great grandfather of one of Havilah's newest members, Scott Powers.  Scott recently moved to Bodfish and is looking forward to learning more of our local history:
EVERYBODY'S COLUMN – NOTES AND COMMENT AROUND TOWN.
News that Neils P. Petersen, the veteran stock raiser of the South Fork Country, had passed safely through a serious illness, was welcomed in Bakersfield where he is well remembered through his having served seven years on the board of supervisors from the First district.
Mr. Petersen is one of the men who helped organize the county of Kern, after it was created out of the county of Tulare in the late '60's.  He was one of the first settlers in the Kernville country and after serving several years before the mast under his native Danish flag he came through the Golden Gate in 1862.  He spent a year in the American navy during the Civil War but after the war he devoted himself to mining.
For many years Mr. Petersen has been running the mountain stage.  He is known to all the pioneers as one of the county's best citizens.  He has a large ranch which is equally famous for fine stock and for its apple orchard as many Bakersfield people will bear witness.  Despite his ripe age (he will be 75 on October 19), Mr. Petersen has retained his vigorous activities. *  *  *  *
IT'S A FACT!!
From Havilah Happenings, published in the Fence Post Country Reader, May 1997
by Carl Triplett
In the early days when mining camps existed in California, most miners disliked snobs as much as they loved hoaxes.  In one of the camps, a well-dressed gentleman who preferred to eat his meals alone in his hotel room, so enraged the miners that they went to their accommodating sheriff and had the snob arrested for horse stealing, a capital crime, and thrown into the horrible jail.  He was put on trial the next day.  The prosecutor, demanding the death penalty, painted a picture of one of the slickest horse thieves in the West.  The defending attorney pled for the man's life, calling on the judge and spectators to see before them a gentleman with such faultless manners that he dressed for dinner, which he took in the quiet of his own room; a man who never bought anyone a drink in the saloons, for the reason that he strictly minded his own business; and was a man who couldn't ride a horse without falling off, much less steal one or tell a horse from a jackass.  It was all too much for the judge and spectators; laughter got them down and they all poured across the street to the nearest saloon.  The snob who minded his own business got the point that in the frontier camps snubbing his equals was a crime no less than horse stealing. * * *
Imponderables!
Submitted by Al Price
In the 1980's A &W Root Beer thought it would get more customers by offering a 1/3rd pound hamburger for the same price as the ¼ pounder you could get elsewhere.  It failed, why? Customers wanted to know why they should pay the same money for a smaller hamburger at A & W.
A College Professor walked into his classroom with a T-shirt that said:   There are two types of people in this world; #1. those who can extrapolate from incomplete data….Two of his students asked what the other type of people were, and shouldn't that be on his shirt?
Sign on a sandwich shop door: "I'm closed today because I had to fire two cashiers.  Actually, they quit when I told them that their boyfriends cannot stand next to them all day while they are working.  Therefore, from now on I'm only hiring Baby Boomers who actually realize what work ethics are. Gen Z folks need not apply!
A recent poll says 38% of Americans won't buy Corona beer because of the Corona virus. These are probably the same folks who think chocolate milk comes from brown cows.
Seen on the Internet — Do grown people still use umbrellas? The comment in reply says, Why not?  Do you think people are waterproof once they turn 18?
Another genius asked, "Is there a subscription service available where I can order a book, then return it to get another one? The reply:  "Yup, it's called a Library!"
"You've got to be kidding," the boyfriend said. "You actually feel cheated that the Australians didn't send you a real Koala bear when you sent them $70 to help save the Koalas?" (She thought she was applying to become a foster parent to a Koala.)
Scammers use all kinds of tricks. Believe it or not, they placed questions on the Internet asking, "If your Social Security number was a check to you, how much would that check be for?  Now, turn your birthday into a money amount and subtract that from the SSN total.  Send these figures to us to see if you have won a prize.
The Grundy County Sheriff's Office in Mississippi suggests, "When you make a fake driver's license, don't use the photo of you and your girlfriend for your license photo."
They asked him his name at Starbucks and he replied, "Mark with a "c". His drink came back labeled "Cark". *  *  *  *  *
President –                               Roy Fluhart
Vice President –                      Larry Grafius
Secretary –                               Vicki Porter
Treasurer –                              Jayne-Hotchkiss-Price
Directors:                                Lana Grafius
Wes Kutzner
Immediate Past President       Jayne Hotchkiss-Price
Newsletter Editor –                 Janet Kutzner
Website:  www.havilahmuseum.org
Annual membership is $25.00 per individual or family when monthly newsletter is emailed.  If newsletter is snail-mailed the membership fee is $35.00.  The membership year is from January 1 to December 31.  The Courthouse Museum and Schoolhouse are open from April 1 through Sep. 30 on weekends from 11 am until 3 pm, and by appointment.  They are located at 6789 Caliente-Bodfish Road, Havilah, CA 93518.  Admission to the museum is FREE, but donations are cheerfully accepted (and 100% tax-deductible!).  The monthly general meeting is at 3 pm the second Saturday of each month at the Havilah Schoolhouse.