The Havilah Herald
Official Publication of the Havilah Centennial Group, Inc.
aka The Havilah Historical Society and Museum
May 2022
A recognized 501 C 3 non-profit Historical Organization (all donations are tax-deductible)
Dedicated to the preservation of the history of Havilah,
The first County Seat of Kern County, CA
California Historical Marker # 100
Our Purpose:
The purpose of this corporation is EDUCATIONAL. The organization has been formed and is maintained to research, document, preserve, and share the historic legacy of the town of Havilah, California, and of Kern County, California. Included in this purpose is the objective to provide for the advancement of education about the history of Havilah and early Kern County to the local community at large and to any and all visitors to the community.
* * * * *
THE PREZ SEZ
May 2022
A typical April…warm, then real windy, and today we had rain and the sweat shirts are back out of the jour. The chickens are frisky, as are the two new kittens I brought home, and the Labradors are confused by the scampering young'ns. Ah, it's springtime! I attended my first Chamber of Commerce meeting last week for Kern River Valley. We'll be sending historical articles to Debbie Golden who writes for the Kern Valley Sun, recalling events and pioneer stories. Thank you to Larry Grafius and Bob & Vicki Porter for replacing the stairs on the side of the courthouse and one on the schoolhouse. Opening season has started out well and we're enjoying our new promo items, Thank you again, Mary & Stevie Christopher. We have ordered the California Historical Landmark sign to replace the original. It will be placed on Havilah Historical Society property in between the court and schoolhouses.
Our next meeting is May 14th.
Your Prez,
Jayne Hotchkiss-Price
*********************************************************
OLD AUTOMOBILE CLUB SIGNAGE FROM THE HAVILAH COURTHOUSE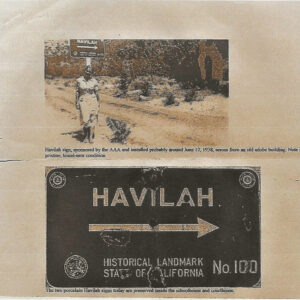 The above undated photo of a tourist standing by the old brown Auto Club sign identifies Havilah as #100 in the State Historical Landmark register. There are no structures shown, only the remains of an old adobe building.
Since the arrival of the motor car in California, the AAA had gratuitously provided informational signs made of porcelain. By 1956, the state of California took over control of all public highway signage, but within a few years the signs evaporated from the landscape, quickly becoming desirable and expensive collectors' items. The brown AAA signs are particularly scarce since so few were ever produced.
Due to concerns of future potential loss, the signs were taken down about 14 years ago and are currently on display in both the courthouse and schoolhouse. Following this article please note a picture of a new replica sign that will soon be installed once again in its rightful place outside the courthouse building! A big thank you to Al and Jayne for their efforts to make this possible!
Thanks to the historical department of the Automobile Club of Southern California and the California State Office of Historic Preservation, we have learned some interesting facts in attempting to document the age of the sign in the photo.
Beginning with #1, the first 28 California historical Landmarks were listed in 1932. Listed means simply that the site was identified as an historical landmark; it doesn't reflect the actual date that a sign or marker was erected, which could have been years after the date it was listed. Four historical Landmarks for the Kern River Valley/Walker Basin area were listed on March 29, 1933. These include Kernville, Keysville, Walker Pass and Havilah, #'s 97 – 100. The actual Havilah monument, directly across from where the sign used to be (just South of the courthouse), is marked as having been erected on June 12, 1938. We, therefore, can reasonable assume the AAA Havilah sign was installed at about that time, making it over 80 years old!
An important sidebar – a small cautionary note to interested California historians: in 1995, the State Office of Historic Preservation announced plans to review all Historical Landmarks listed prior to 1970 for possible decommissioning. Apparently, some BISWKB (Bureaucrat In Sacramento Who Knows Better) believes earlier landmarks were appointed at local peoples' whims and may not be of genuine historical importance (compared with post-1970 standards) and they propose to review these for elimination.
(This information was taken from the April 2008 issue of The Havilah Herald).
**************************************************************************************
NEW REPLACEMENT HAVILAH SIGN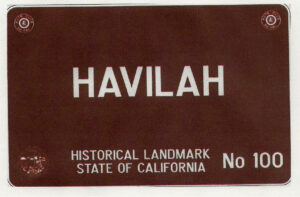 * **************************************************************************** *
"IF IT WEREN'T FOR LIE-ING…
THERE'D BE NO POLITICIANS"
—— Will Rogers
Will Rogers, who died in a 1935 plane crash in Alaska with bush pilot Wiley Post, was one of the greatest political country/cowboy sages this country has ever known. Here are some of his sayings:
1. Never slap a man who's chewing tobacco.
2. Never kick a cow chip on a hot day.
3. There are two theories to arguing with a woman. Neither works.
4. Never miss a good chance to shut up.
5. Always drink upstream from the herd.
6. If you find yourself in a hole, stop digging.
7. The quickest way to double your money is to fold it and put it back into
your pocket.
8. There are three kinds of men:
The ones that learn by reading, the few who learn by observation, and the rest of them have to pee on the electric fence and find out for themselves.
9. Good judgment comes from experience, and a lot of that comes from bad judgment.
10. If you're ridin' ahead of the herd, take a look back every now and then to make sure it's still there.
11. Lettin' the cat outta the bag is a whole lot easier'n puttin' it back in.
12. After eating an entire bull, a mountain lion felt so good he started roaring. He kept it up until a hunter came along and shot him. The moral: When you're full of bull, keep your mouth shut.
ABOUT GROWING OLDER…
First ~ Eventually you will reach a point when you stop lying about your age and start bragging about it.
Second ~ The older we get, the fewer things seem worth waiting in line for.
Third ~ Some people try to turn back their odometers. Not me; I want people to know 'why' I look this way. I've traveled a long way, and some of the roads weren't paved.
Fourth ~ When you are dissatisfied and would like to go back to your youth, think of Algebra.
Fifth ~ You know you are getting old when everything either dries up or leaks.
Sixth ~ I don't know how I got over the hill without getting to the top.
Seventh ~ One of the many things no one tells you about aging is that it's such a nice change from being young.
Eighth ~ One must wait until evening to see how splendid the day has been.
Ninth ~ Being young is beautiful, but being old is comfortable and relaxed.
Tenth ~ Long ago, when men cursed and beat the ground with sticks, it was
called witchcraft. Today it's called golf.
And, finally ~ If you don't learn to laugh at trouble, you won't have anything to laugh at when you're old.
(Thank you, Al, for this contribution…this hits home for a lot of us! ….editor)
* * * * * * *
Your Officers for 2022 are:
President – Jayne Hotchkiss-Price
Vice President – Larry Grafius
Secretary – Roy Fluhart
Treasurer – Al Price, past president
Directors: Lana Grafius
Wes Kutzner
Immediate Past President – Al Price
Newsletter Editor – Janet Kutzner, past president
Website: www.havilahmuseum.org
Annual membership is $25.00 per individual or family when monthly newsletter is emailed. If newsletter is snail-mailed the membership fee is $35.00 TO OFFSET THE ADDITIONAL COSTS OF MAILING LABELS, STAMPS, PAPER, ENVELOPES, AND PRINTER INK (NOT TO COUNT ALL THE ADDITIONAL TIME INVOLVED, THEN THE MAILING!) The membership year is normally from January 1 to December 31. The Courthouse Museum and Schoolhouse are usually open from April 1 through Sep. 30 on weekends from 11 am until 3 pm, and by appointment. We are located at 6789 Caliente-Bodfish Road, Havilah, CA 93518. Admission to the museum is FREE, but donations are cheerfully accepted (and 100% tax-deductible!). The monthly general meeting is normally at 3 pm the second Saturday of each month at the Havilah Schoolhouse.
It's that time of year again when we're reminded that not only is it the continuing efforts of our officers and friends of the Havilah Historical Society that keep us going….but financially, too! Won't you please open your wallets or dust off the ole' checkbook and help us out! Our piddlin' $25.00 annual fee is still the same (if you receive your newsletter by email); however, due to the high cost of postage and ink, we ask that you donate $35.00 if you rely on snail-mail. Below is an application form for your convenience.
*************************************************************************************************
SO, YA' WANNA BE A MEMBER, HUH? GREAT !
Membership Application to the Havilah Historical Society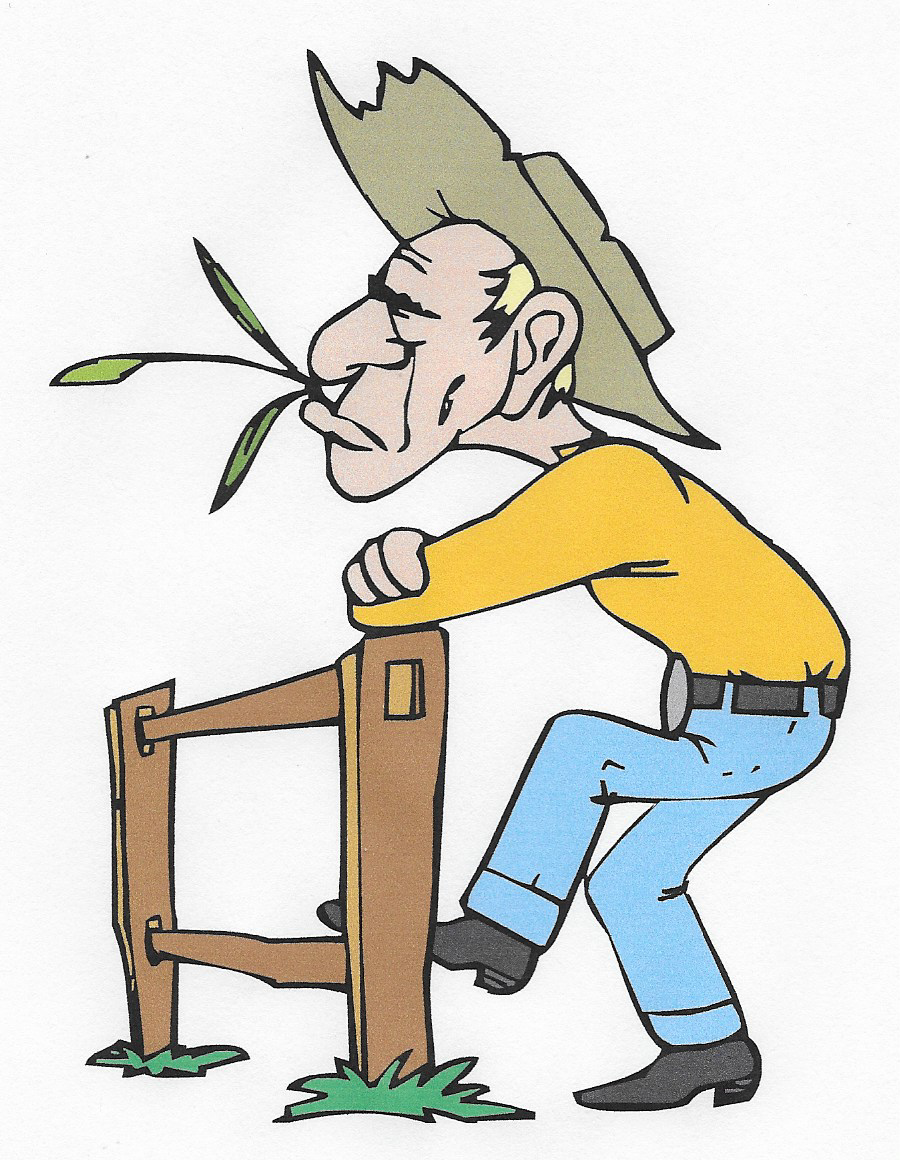 (Choose membership type, print a copy, enclose your gold dust, and send it to the address below, under Membership Renewal)
Annual membership, and newsletter by

e-mail

$25/yr (Jan – Dec), or
Annual membership, and newsletter by

snail-mail

$35/yr (ink, paper, envelope, stamps & time)
(Membership subject to approval by the Board of Directors of the Havilah Historical Society a.k.a. The Havilah Centennial Group, Inc., and consists of an INDIVIDUAL ADULT OR TWO ADULT FAMILY MEMBERS, LIVING AT THE SAME ADDRESS. (The only one we Grandfather is our Grandfather!)
Date submitted ______________
Name(s) ___________________________________________________________________________
E-mail address: ___________________________________________________________________
Regular mail address: ____________________________________________________________ Amount Enclosed _____________________________________
We are an authorized 501 C 3, non-taxable, non-profit, recognized under both State and Federal regulations. ALL DONATIONS ARE TAX DEDUCTIBLE!
YOU DO NOT HAVE TO LIVE IN KERN COUNTY TO BECOME A MEMBER
(Just be able to walk over hot coals, barefooted, while singing the Star-Spangled Banner, in Gaelic!)
Membership Renewal:
Havilah Centennial Group, Inc.
Havilah Historical Society & Museum
P.O. Box 3, Caliente, CA 93518-0003
www.havilahmuseum.org Fiscal Year from Jan. 1 to Dec. 31
$25 Annual Dues for an Individual or a Family Membership (a family is 2 adults for voting purposes), will entitle members to receive notices via monthly newsletter, The Havilah Herald, of meetings, functions, and events. $35 Annually if you require the monthly newsletter by "snail-mail".
Name________________________________________________________________________
Mailing Address_______________________________________________________________
Phone________________________________email___________________________________
Deliver newsletter (check one) by email______ or by snail-mail______ (Membership $25.00 plus $10.00 for snail-mail newsletters and bulletins. Postage, envelopes, paper, etc., AIN'T FREE. Total snail-mail membership $35.00 / yr.)
Date Renewal Submitted___________________________________
~~~~~~~~~~~~~~~~~~~~~~~~~~~~~~~~~~~~~~~~~~~~~~~~~~~~~~~~~~~~~~~~~~~~~~~
* * * * *
Membership year is from January 1 to December 31.
The Courthouse Museum and Schoolhouse are open from April 1 through Sep. 30 on weekends from 11 am until 3 pm, and by appointment. They are located at 6789 Caliente-Bodfish Road, Havilah, CA 93518. TEMPORARILY CLOSED DUE TO COVID-19 RESTRICTIONS! — BUT WE STILL TAKE TAX-DEDUCTIBLE DONATIONS !
Admission to the museum is FREE, but donations are cheerfully accepted, (and 100% tax-deductible!).
The monthly regular meetings are at 3 pm the second Saturday of each month at the Havilah Schoolhouse.
Our MAILING ADDRESS is:
HAVILAH HISTORICAL SOCIETY & MUSEUM
P.O. Box 3
Caliente, CA 93518 – 0003