The Havilah Herald
Official Publication of the Havilah Centennial Group, Inc.
aka The Havilah Historical Society and Museum
Havilah California – December 2018
A recognized 501 C 3 non-profit Historical Organization (all donations are tax-deductible)
Dedicated to the preservation of the history of Havilah,
The first County Seat of Kern County, CA
Our Purpose:
The purpose of this corporation is EDUCATIONAL. The organization has been formed and is maintained to research, document, preserve, and share the historic legacy of the town of Havilah, California, and of Kern County, California. Included in this purpose is the objective to provide for the advancement of education about the history of Havilah and early Kern County to the local community at large and to any and all visitors to the community.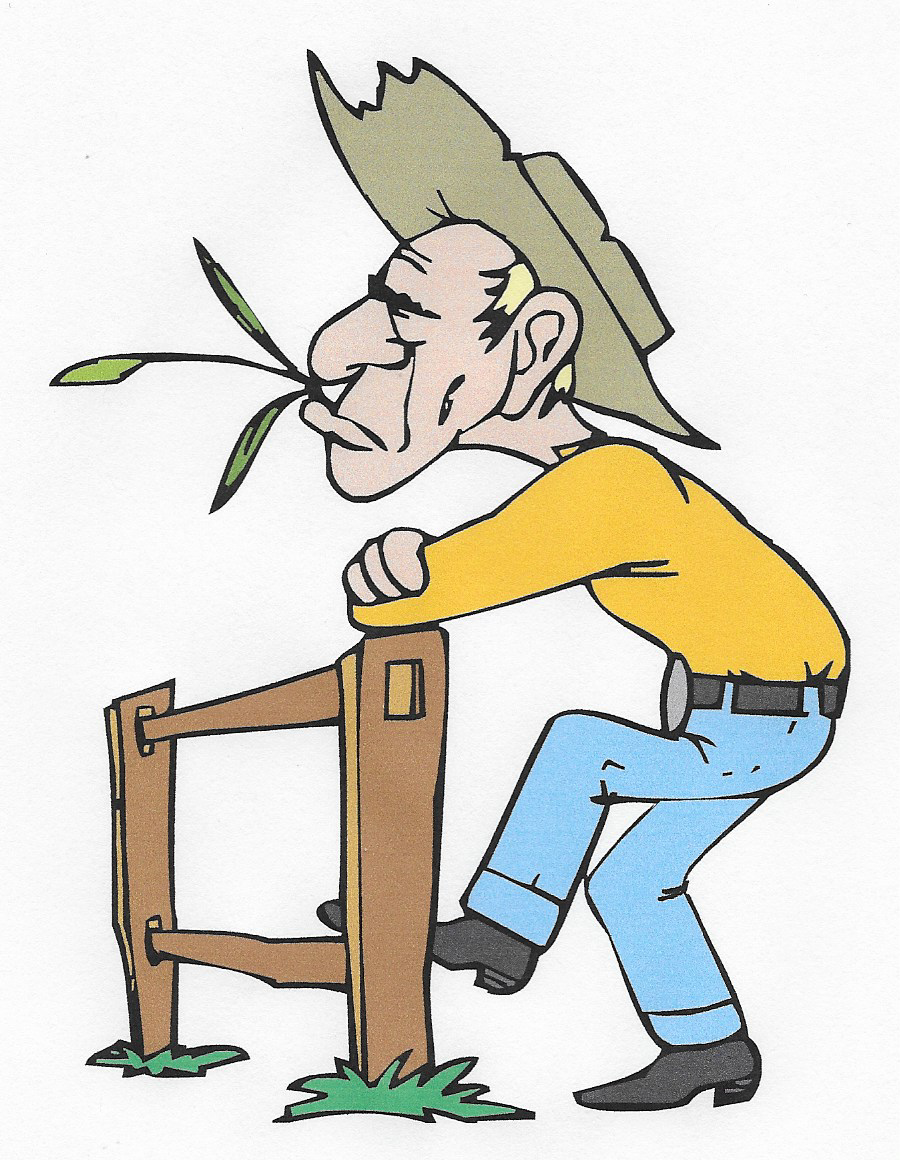 The Prez Sez for December 2018
Technology is a wonderful thing … sometimes! Don't ya' just hate it when you learn to do something one way, get good at it, THEN THEY CHANGE THE RULES! Well, that's where this newsletter has been. Hung up in Technology land while our Newsletter Editor and Past President, Janet, gets used to changing to a new computer, and having to re-learn everything all over again for the new OS (operating system). On top of that, it was the blind leading the blind when she called upon our newly elected Secretary Roy, and me to come try to help her. Well, we must have gotten lucky if you get this December article.
Speaking of luck, we are so lucky to have Raul Estrada of the U.S. Forest Service as a friend and as a new member in our Havilah Historical Society. Sorry if you missed the November meeting where we tricked "Smokey Bear" into showing up to give a talk about the history of the Forest Service buildings in Havilah. We actually got Raul there to present him with a Certificate of Appreciation for all that he has done, and is still doing for us. Along with the certificate, we gave him a two-year membership to the Havilah Historical Society and a gift certificate to the Pizza Factory in Lake Isabella. We were pretty sure that Raul wouldn't have come if he had known our real intentions.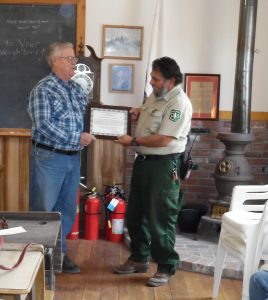 He's kind of a quiet fella, likes to just pitch in without any special recognition. And he does an excellent job at whatever he is doing. I'm sure many of us have seen him with his hula-hoe, cutting weeds around our picnic tables, stopping to pick up trash, or offering to help us do whatever he sees us struggling with around the court house. THANKS AGAIN RAUL, AND WELCOME TO THE GROUP!
It's that time of the year, well, for a couple of things. A group of us got together on Monday, Dec 3rd, to put up our Holiday decorations at the school house. We will hold our annual Christmas party there on Saturday, Dec. 8th at 3 pm. Be sure to bring an UNWRAPPED gift for our toy drive, and remember, they all go to children up here in the mountains. It's also time to renew your memberships. It's $25 per household. That's one or two adults in the same household.
MERRY CHRISTMAS EVERYONE, AND A MOST HAPPY AND PROSPEROUS NEW YEAR!
From President Al and Treasurer Jayne (and I wish it would stop raining. I've got mucho stuffo to do – o!)
From your Editor: Al is right when he spoke of the problems I have encountered in improving my computer skills (moving onward to the 21st Century! – I probably was the last hold-out still using a land line and ancient computer! I've a long ways to go, but thank you to Roy and Al for helping a lot!
At the November meeting the vote was taken and following are your duly elected 2019 officers:
President, Al Price
Vice President, Larry Grafius
Treasurer, Jayne Hotchkiss-Price
Secretary, Roy Fluhart
Directors, Wes Kutzner, Lana Grafius
Immediate Past-President, Janet Kutzner
Congratulations 2019 Officers and Directors! Your dedication is duly and sincerely noted…welcome aboard to the "new guys" and thanks to the "long-standing" incumbents who eagerly resume their duties!!
We're looking forward to our Christmas party this coming Saturday. Everyone is welcome…bring a friend! In addition to donating an unwrapped toy for the kids, please bring some munchies to share. We'll have a good time like we always do. Looking forward to seeing YOU!
Because of the Christmas party taking place in December, the regularly scheduled general meeting is cancelled and will resume on the regular date of Saturday, January 12 at 3 pm at the Havilah Schoolhouse. Sincere wishes to all for a blessed Christmas and Holiday Season!
* * * * *
BUFFALO BILL
(From "Little Dramas of Old Bakersfield" by Rush Maxwell Blodget)
Buffalo Bill Comes to Town (1880's) – You brought your Wild West Show to Bakersfield in the late 80's. Your cowboys wore chaps and spurs and red kerchiefs; your cowgirls were decked out in leather and beads; your Indian braves grunted to scare little boys. But, as for you, the Great Buffalo Bill, your trappings were so resplendent that when you rode down our rutty streets, leading your parade, even the mangy dogs stopped scratching at fleas to gaze upon your glories – your long white hair, your little goatee, your prancing horse, and silver-mounted saddle.
You gave your exhibition at the old baseball field between Bakersfield and Sumner Streets; and after the bronco riding and steer throwing was over, you rode around the field at breakneck speed, shooting your pistol on the run, breaking a shining ball about the size of an orange with each shot. After the show, we boys made an official investigation and found that your cartridges were made like shotgun shells and loaded with tiny shot; your pistol was a scatter-gun, and the balls were made of fragile resin.
Bill, we suspected that you were an old fraud, for we ourselves, before we were ten years old, were taught by our daddy to throw a tin can up and plug it with a rifle before it could fall.
BUFFALO BILL WAS AWARDED THE MEDAL OF HONOR – HAD IT TAKEN AWAY – THEN RESTORED AGAIN!
In 1872, Buffalo Bill and several other Indian Scouts were awarded the Congressional Medal of Honor for all their help to the Army during the Plains War. The justification for awarding the Medal of Honor was changed by Congress in 1913, to be awarded to only military personnel who distinguished themselves "over and above" while on active duty, and revoked the previous medals awarded to the "Civilians and Civilian Scouts". Bill died on January 10, 1917, and the medals were not taken back until shortly after his death. In 1989, Bill's grandchildren were successful in having those scout's medals reinstated. Bill was baptized into the Catholic Church by Father Christopher Walsh of the Denver diocese two days before his death. He was a 32nd degree Mason, and received a Masonic funeral service at the Denver, Colorado Elks Lodge.
THE CIRCUS COMES TO TOWN
In 1888, the Circus came to Bakersfield. While the Big Show was on, the Side Show Stars were resting, and we had the freaks all to ourselves. The Fat Lady gave us sandwiches; the Human Encyclopedia Lady asked us questions that any Human Encyclopedia Lady ought to know the answers to already. The Tattooed Man told us the sad story about the Beautiful Lady tattooed on his chest; and the Albino Cannibal Man told us in confidence the best way to prepare a Cannibal dinner; and that his father was the King of Cannibal Island who loved to eat little boys.
I forgot to ask the Human Cannibal Man where he acquired his New York accent.
* * * * *
The following article is submitted with thanks from Prez Al:
CHRIS EVANS AND JOHN SONTAG – TRAIN ROBBERS
On page 43, Chapter VIII, of "Onyx Store", ("South Fork Country"), by Bob Powers, you'll read that two n'er-do-wells, Chris Evans and John Sontag, were hiding out in Kelso Canyon. They knew that William Scodie had a habit of coming to his store early to restock the shelves and get the supplies ready for local farmers and cattlemen. In the winter of 1892-93, these two fugitives snuck up under the cover of darkness and slipped a grocery list and $20 gold piece under the door, advising Scodie to have a deliveryman proceed up Kelso Canyon with the goods and he would be met. Scodie sent his employee, Louie Bowers, up the canyon with the supplies. Two masked hombres stepped out from behind some cactus and demanded that he surrender the load.
They figured that even if Scodie knew who they were, he wouldn't turn them in, banking on the fact that most people believed they had been forced into a life of crime by the Southern Pacific Railroad. It was long believed that Chris Evans, a respected Farmer in Visalia, had his land confiscated by the railroad as it made its way through the town – maybe, maybe not. But it is a fact that John Sontag had worked as a Brakeman for the Southern Pacific Railroad, and had been injured on the job, then fired… Sontag then went to work on Evans' farm. How and why they decided to rob trains is unknown, but the fact is, they did.
To make a very interesting but long story a little shorter: The posse shot-up Sontag and Evans as they hid behind a haystack in Fresno in July of 1893. Sontag died a day or so later in the Fresno jail. Evans was caught later on, convicted, and sentenced to life in prison. Ok, so that's all we knew of Sontag and Evans, until a week or so ago when Jayne and I went with a Cemetery Interest group on a field trip to meet with the Fresno Catholic Diocese's Cemetery director, Carlos Rascon. Carlos is in the process of taking over the St. Joseph Cemetery in Havilah since a records search reflected that the Church still owns the property. He is planning on constructing a small, replica church on the site in Havilah in front of the cemetery. While in Fresno we toured a couple of local cemeteries with Carlos. At the Holy Cross Catholic Cemetery Carlos asked us if we knew anything of a John Sontag. He showed us John's headstone. We told Carlos, "Yeah, John Sontag was a train robber in the 1880's and 1890's". "Well, that's strange," said Carlos, "Just look at his headstone — there's a railroad train engine carved into it!"
Here's a photo Jayne KK6JPZ took that afternoon. Very strange, but very true!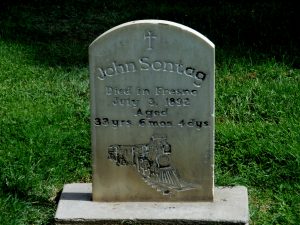 —- Al, N6ALP
* * * * * *
The following article was published in the LA Department of Water and Power Newsletter on 10-22-84 regarding Tom Ratican, who worked there for many years: Tom is a former Havilah Historical Society long-time President and resident of Havilah who passed away in 2010:
AWARD-WINNING PERFORMANCE
Tom Ratican, a warehouse worker, Valley General Headquarters Store 3, recently received an acting award from the Southern California Motion Picture Council.
The Council presented Ratican with its Bronze Halo award for his role in the film, "The Shooting," a western in which he plays the tough father of a convicted killer.
Ratican has been acting for more than 20 years on stage and TV, as well as in movies. As a hobby, he writes and films movie scripts. He also builds miniatures and is a member of the Stunt Man's Hall of Fame.
(Editor's note: Check out the display case in the Havilah Courthouse Museum featuring Tom Ratican – he was a very talented and special person whom we miss).
* * * * * *
THE CURRENT HAVILAH HISTORICAL SOCIETY OFFICERS AND DIRECTORS:
President: Al Price 661/867-2414 email havilahmuseum.org
Vice President Larry Grafius 661/867-2579
Secretary Roy Fluhart 928/308- 1863 email rflu408@gmail.com
Treasurer Jayne Hotchkiss-Price 661/867-2414 email havilahmuseum.org
Directors (2) Lana Grafius 661/867-2579
Wes Kutzner 760/379-2636 email mark@fencepostpaper.com
Immediate Past President/Editor Janet Kutzner 760/379-2636 email
Annual membership is $25.00 per individual or family. Membership year is from January 1 to December 31.
The Courthouse Museum and Schoolhouse are open from April 1 through Sep. 30 on weekends from 11 am
until 3 pm, and by appointment. They are located at 6789 Caliente-Bodfish Road, Havilah, CA 93518.
Admission to the museum is FREE, but donations are cheerfully accepted, (and 100% tax-deductible!).
The monthly general meeting is at 3 pm the second Saturday of each month at the Havilah Schoolhouse.
HAVILAH HISTORICAL SOCIETY & MUSEUM
6789 Caliente-Bodfish Road
Havilah, CA 93518