THE Havilah Herald Newsletter —- February 2018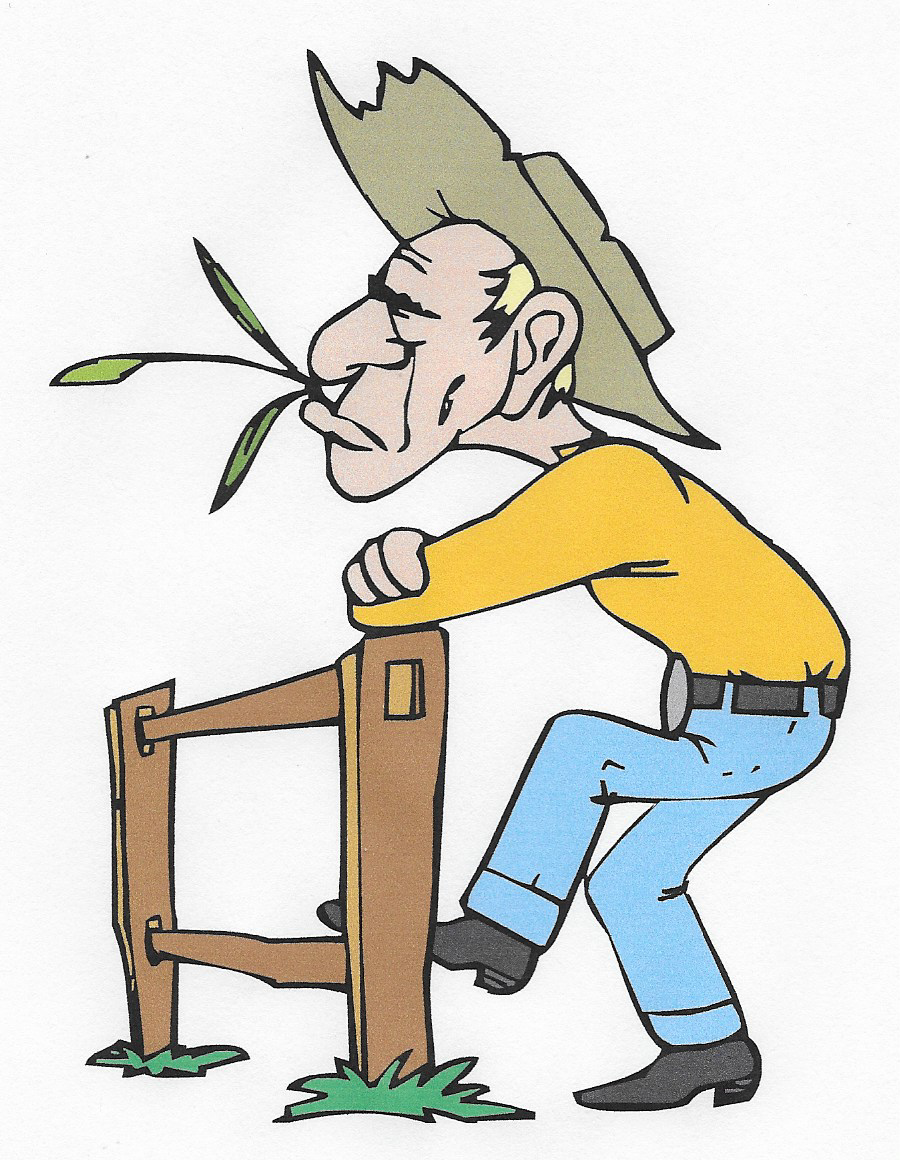 Official Publication of the Havilah Centennial Group, Inc.
aka The Havilah Historical Society and Museum
Havilah California – February 2018
A recognized 501 C 3 Historical Organization (all donations are 100% tax-deductible)
Dedicated to the preservation of the history of Havilah,
The first County Seat of Kern County, CA
Our Purpose:
The purpose of this corporation is educational. The organization has been formed and is maintained to research, document, preserve, and share the historic legacy of the town of Havilah, California, and of Kern County, California. Included in this purpose is the objective to provide for the advancement of education about the history of Havilah and early Kern County to the local community at large and to any and all visitors to the community.
* * * *
The next meeting of the Havilah Historical Society will be on Saturday, February 10 at 3 pm at the schoolhouse. We're still tossing ideas around to determine what we will do for improving Havilah Days, or to come up with something new. Please help us out here…your input is very important! Also after the meeting we will continue with a Power Point Program by Al and Jayne regarding historic sites and buildings in or near the Kern River Valley. The first 50 slides were presented last meeting, and the last 50 will be shown at this meeting…they are very interesting and informative! * * * *
Annual Membership Dues: Don't forget that the dues are now payable – a measly $25 (tax deductible) per year will help keep Havilah history alive, maintain the courthouse museum and schoolhouse, and you will receive this terrific monthly newsletter and be undated with wonderful friendships!……what more could you ask for? J (For those of you who have already submitted your gold dust or reasonable facsimile, we sincerely thank you). * * * *
We now offer in interesting one-page flyer at the courthouse regarding the Dave Burton/Newt Walker shootout in Havilah. This shootout occurred just outside the doors of our museum and down the street to the spot marked with the sign "Mrs. Miller's Store." It happened on April 23, 1905. * * * *
Also, in just two months the courthouse will be open again for visitors. It's not too early to be thinking about being a docent (again, or as a new volunteer). This is a great opportunity to both learn and teach visitors about Havilah history. Of course, if you know of anyone or a group who might want a personal tour, we're glad to open the courthouse almost any time. Just call Al or Jayne or any of the board members. * * * *
Terry Bolt is working on getting a grant. She will also make a 15 minute informational movie on Havilah. Thank you, Terry. * * * *
Thank you to Red Bolt, Bob and Vicki Porter for doing more repair work at the museum – this time they fixed the platform at the top of the stairs on the North side of the building – thank you! (It is now much safer). * * * *
Prez Al was responsible for sending a letter to the County to start on putting a dividing line on Hooper Hill, between Bodfish and two miles North of Havilah (a 4 ½ mile stretch). As you know, the County Road Dept. painted a few white lines next the outer edge of the road and put white dots down the center, but never finished the project. Al is still trying, but the County is dragging their feet because the road is not a "legal" road (wide enough)….Scary thought? He has also contacted the Public Works, Road Maintenance Division, and the Head of Cal-Trans about this.
Don't forget to check our website – just go to www.havilahmuseum.org.
* * * * * * * *
The following letter and map was submitted by Audrey Kutzner Fluhart to the Fence Post in January 1998. The letter was in response to a monthly column submitted by Carl Triplett called HAVILAH HAPPENINGS:
A couple of weeks ago I received a phone call from Audrey Kutzner Fluhart of Arizona. She told me she liked my column and was going to write a book about Havilah. Audrey said that some of the things I recalled were inaccurate. Recently, I received a letter from her. I thought you, the readers, might be interested in reading it. Following is her own story on how Havilah was more than fifty years ago. She even made the following map:
Dear Carl,
Herman Kutzner and Ethel Kutzner met in Havilah, April 1926. They were married in Bakersfield at the Court House, August 1926. I was born in Bakersfield on January 11, 1928. When I was about 2 weeks old, my parents brought me to Havilah to the little red tin cabin that is still standing today on the east side of the road and where my parents were living at the time.
In the early 1930's my dad homesteaded the 640 acres that was named the Bald Eagle Ranch. On my dad's death in December of 1966, my mother became the sole owner of what was left of the ranch.
In 1981 my mother sold 160 acres that was known as the Goff Ranch in early times. So about 220 acres are left and is still owned by my mother today.
My dad worked for the Forest Service, not the Department of Forestry. When the CCC camp was at Havilah, he was a foreman and also a heavy equipment operator. He helped build some of the forest service roads like the one from the Havilah-Bodfish Summit around the back side of Bald Eagle. My dad also worked for the Kern County Road Department.
There are not many people that know about a road down Clear Creek Canyon. It started at the Bald Eagle Ranch to Hobo (Miracle Hot Springs). At the most it was open for four or five years until the flood of either 1938 or 1939 took it out for good.
The road to the creek is still a deeded county road. This is the road my mother would go down when she was driving the car for a school bus. As I was the only child (most of the time) from Havilah, we would go down Clear Creek Road with all 17 creek crossings, pick up one or two at Hobo and any others on the way to Bodfish. She would leave us at school, then she would go up Bodfish Canyon and pick up a few children, leave them off at the school and drive back over the hill to Havilah.
On July 20, 1907, Judge Paul W. Bennett was acting as trustee to secure titles from the government to Havilah for town lots. Havilah was built on unsurveyed land and the residents have held their lots by occupation only. Asbury Harpending did not own the land. He just sold the lots, took the money and left.
In August 1907, enormous deposits of rich ore were uncovered in the Clear Creek Canyon,. I believe that this was the King Solomon Mine. Ownership in 1958 was G. L. Stubblefield and E. A. Rosa of Havilah.
I still believe that the hospital was across Stoney Creek from the now Court House. I don't know who owned the land, but I would get a metal detector and work that area. I have read that there was a hotel built at the Hot Springs at Isabella and that Kern County Hospital would rent some rooms for their patients.
I have never heard of a Chinese cemetery and there have not been a lot of signs of a large population of Chinese. Those that have dug for old bottles and artifacts have not found much.
Yours truly, Audrey Kutzner Fluhart
(Editor's note: Audrey was Wes Kutzner's sister and Roy Fluhart's mother, both current members of the Havilah Historical Society):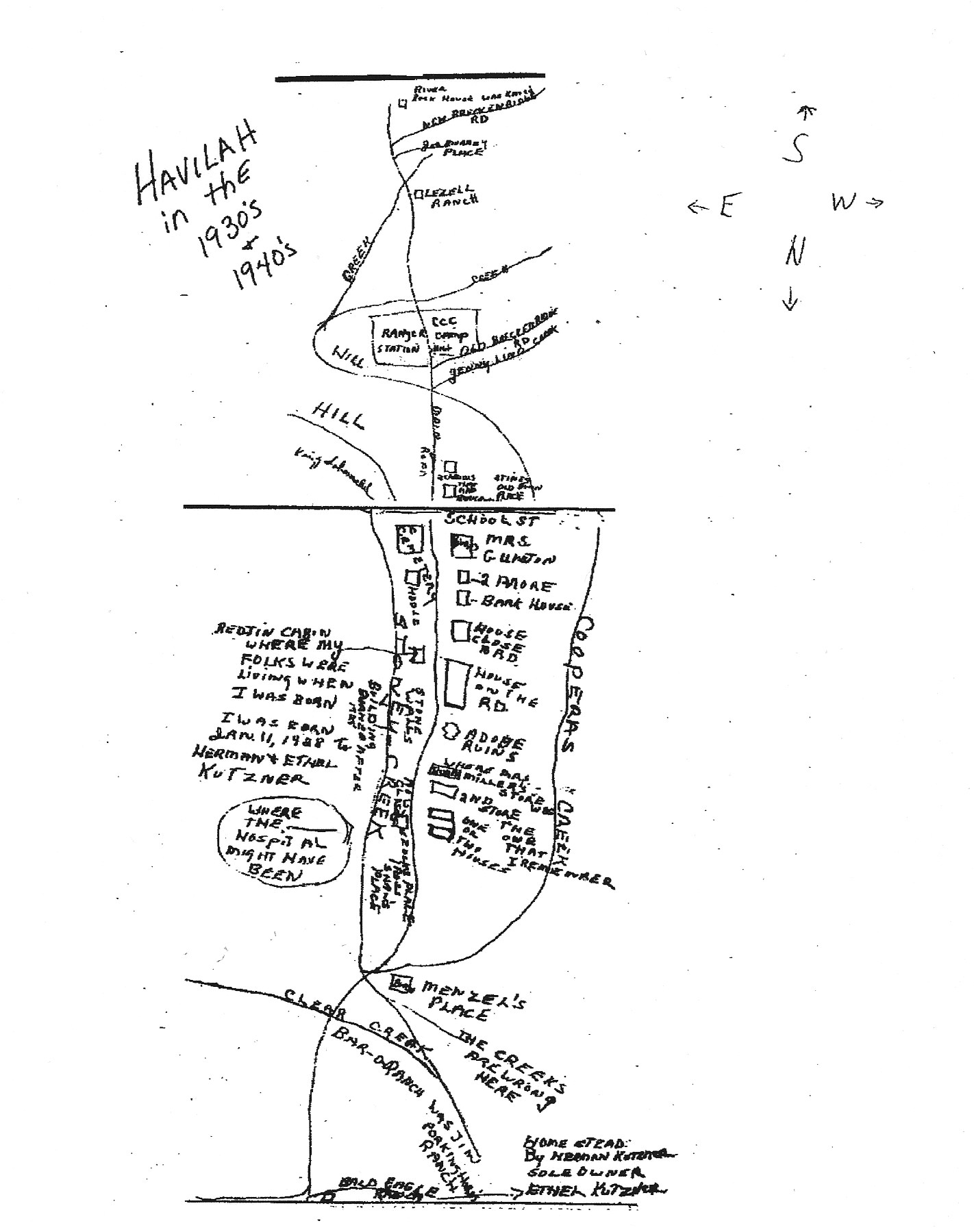 HISTORIC CHRONOLOGY OF SIGNIFICANT DATES OF KERN COUNTY
By Richard C. Bailey, Director Kern County Museum
"In the Days of '49"
Published by the Kern County Museum, Bakersfield, CA 1966 (Part 12)
.
1951 Muroc Army Air Force Base renamed Edwards Air Force Base.
1951 Boron Enterprises newspaper began publication.
1951 First Desert Empire Fair, Ridgecrest.
1952 Houchin Blood Bank started, first in county, Bakersfield.
1952 Town of Kernvale established.
1952 Water Resources Committee of Kern County organized.
1952 Tehachapi and Bakersfield earthquakes.
1953 TV Station KERO, Channel 10, began broadcasts, Bakersfield.
1953 TV Station KBAK, Channel 29, began broadcasts, Bakersfield
1953 Chinese Ying Ming Hall dedicated, Bakersfield.
1953 Bakersfield College football team won annual Junior Rose bowl game at Pasadena.
1953 Deepest oil well in the world completed in Paloma Oilfields by Ohio Oil Company. (20,521 ft.)
1953 Isabella Dam completed.
1953 North High School began.
1953 East Bakersfield Press began publication.
1953 Buttonwillow Reporter began publication.
1954 Bakersfield City Hall dedicated.
1954 Uranium boom.
1954 Radio Station KGEE, Bakersfield, formerly KERO began broadcasts.
1954 First Sports Car Race in Kern County, held at Minter Field.
1954 First woman in the world to exceed the speed of sound, Jacqueline Cochrane, at Edwards Air Force Base.
1954 The Press, Bakersfield, began publication.
1955 Bakersfield News began publication.
1955 Radio Station KMAP, Bakersfield, began broadcasts.
1955 Uranium mill near Mojave began operations.
1955 First Kern County Board of Trade Awards Dinner.
1955 Water Association of Kern County organized.
1955 Kern County Safety Council organized.
1955 Indian Wells Valley Independent began publication.
1955 Radio Station KQXR, Bakersfield, began broadcasts.
1956 National Track and Field Championship (AAU), Bakersfield.
1956 Fresno State Education Resident Center built, Bakersfield
1956 First Wasco Spring Festival.
1956 Cunningham Memorial Art Gallery opened, Bakersfield.
1956` First Delano Fiesta del Muchachito.
1956 Kern County's 90th Anniversary observance at Havilah.
1956 Radio Station KRCK, Ridgecrest, began broadcasts.
1957 Kern County Central Library dedicated, Bakersfield.
(To be continued next month) * * * * * * * * * * * * * * * * * * * * * * * * * * * * *
Here- are some historical tidbits of trivia you might find interesting (from Prez Al):
Did you know the saying "God willing and the Creek don't rise" was in reference to the Creek Indians and not a body of water? It was written by Benjamin Hawkins in the late 18th century. He was a politician and Indian diplomat. While in the south, Hawkins was requested by the President of the U. S. to return to Washington. In his response he was said to write, "God willing and the Creek don't rise." Because he capitalized the word "Creek" it is deduced that he was referring to the Creek Indian tribe and not a body of water. * * * * *
In George Washington's days, there were no cameras. One's image was either sculpted or painted. Some paintings of George Washington showed him standing behind a desk with one arm behind his back while others showed both legs and both arms. Prices charged by painters were not based on how many people were to be painted, but by how many limbs were to be painted. Arms and legs are 'limbs,' therefore painting them would cost the buyer more. Hence the expression, 'Okay, but it'll cost you an arm and a leg.' (Artists know hands and arms are more difficult to paint). * * * * *
As incredible as it sounds, men and women took baths only twice a year (May and October). Women kept their hair covered, while men shaved their heads (because of lice and bugs) and wore wigs. Wealthy men could afford good wigs made from wool. They couldn't wash the wigs, so to clean them they would carve out a loaf of bread, put the wig in the shell, and bake it for 30 minutes. The heat would make the wig big and fluffy, hence the term 'big wig…' Today we often use the term 'here comes the Big Wig' because someone appears to be or is powerful and wealthy. * * * * *
Personal hygiene left much room for improvement. As a result, many women and men had developed acne scars by adulthood. The women would spread bee's wax over their facial skin to smooth out their complexions. When they were speaking to each other, if a woman began to stare at another woman's face she was told, 'mind your own bee's wax.' Should the woman smile, the wax would crack, hence the term 'crack a smile.' In addition, when they sat too close to the fire, the wax would melt…therefore, the expression 'losing face.' * * *
(Look for more of these trivia tidbits next month)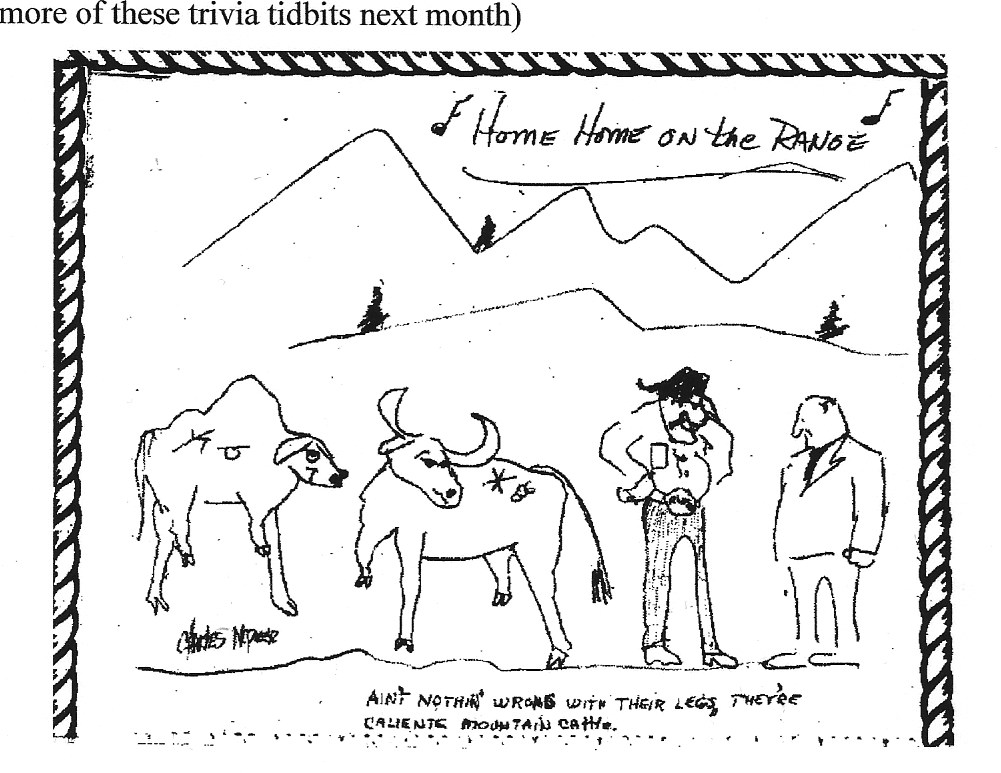 * * * * * * * *
Membership Application
Havilah Centennial Group, Inc.
aka Havilah Historical Society & Museum
6789 Caliente-Bodfish Road, Havilah, CA 93518
Visit us on our website:
www.havilahmuseum.org Fiscal Year from Jan. 1 to Dec. 31
$25 Annual Dues for an Individual or a Family Membership (a family is 2 adults for voting purposes), will entitle members to receive notices via monthly newsletter, The Havilah Herald, of meetings, functions, & events.
Name_____________________________________________________________________________________
Mailing Address____________________________________________________________________________
Phone____________________________________email____________________________________________
Deliver newsletter (check one) by email_______ or by snail-mail________
Date Application Submitted_____________________________________
President: Al Price 661/867-2414 email havilahmuseum.org
Vice President Larry Grafius 661/867-2579
Secretary Janet Kutzner 760/379-2636 email kutzner@mindspring.com
Treasurer Jayne Price 661/867-2414 email havilahmuseum.org
Directors Lana Grafius 661/867-2579
Mark Mutz 661/867-2808 email mark@fencepostpaper.com
Immediate Past President/Editor Janet Kutzner 760/379-2636 email kutzner@mindspring.com
Annual membership is $25.00 per individual or family. Membership year is from January 1 to December 31. The Courthouse Museum and Schoolhouse are open from April 1 through Sep. 30 on weekends from 11 am until 3 pm, and by appointment. They are located at 6789 Caliente-Bodfish Road, Havilah, CA 93518. Admission to the museum is FREE, but donations are cheerfully accepted, (and 100% tax-deductible!).
The monthly general meeting is at 3 pm the second Saturday of each month at the Havilah Schoolhouse.